There seems to have never seen a big and great expectation at the early start out of the year in Nigeria before like we have it right now, and this is due to the massive disappointment that MMM Nigeria participants had last year which almost jeopardize their Christmas Celebration, a whole lot of folks are now waiting to have their cash, even up to 50million and above.
The MMM Nigeria has released a bumper new year message to over 3 millions of its participants over the frozen accounts.
The Scheme on its official Twitter account assured Nigerians their accounts will be unfrozen on January 14.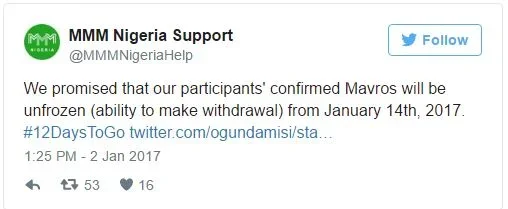 "We promised that our participants' confirmed Mavros will be unfrozen (ability to make withdrawal) from January 14th, 2017. #12DaysToGo"
"Happy New Year to all Mavrodians. And the countdown starts now. 13 days to January 14th".